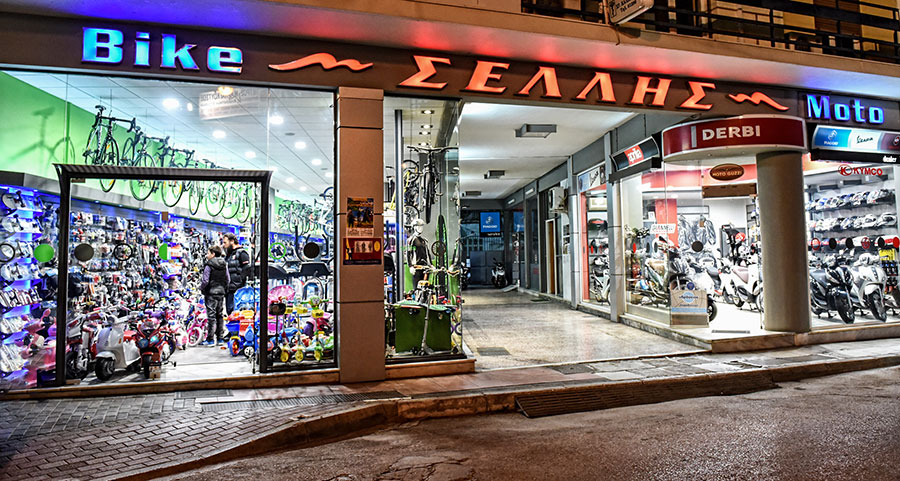 Sellis Bike - Terms of Use
The online store sellsbike.gr offers its services under the following terms of use, as they apply at any time, and which the visitor / user of the pages of the website is considered to have read carefully and accepts fully and unreservedly, in any case they visit / Use of the pages / services of the online store sellisbike.gr. Sellisbike.gr reserves the right to unilaterally modify the terms of use without prior notice to the user / visitor, except for their publication on their respective web site.

Guests Obligations
The user / visitor of the e-shop sellisbike.gr is obliged:
- Not to use the e-shop network sellisbike.gr to carry out acts that may result in criminal prosecution or the commencement of any civil or administrative proceedings against sellisbike.gr for acts that are indicative but not exclusively mentioned The Penal Code, Special Criminal Laws, Telecommunications Legislation, in the Legislation for the Protection of Personal Data as well as in the relevant provisions or directives of the European Union or the National Telecommunications Commission, the Personal Data Protection Authority and any other Public or Administrative Authority and Service. - Do not violate any form of third party copyright.
To keep strictly the applicable regulations and terms of use of the sellisbike.gr online shop as well as the applicable privacy regulations of its subscribers and / or visitors to its websites. - Provide complete and correct registration information that is recorded during registration and for which information is provided. - Update his / her registration details so that they correspond to his true current personal information. In the event that inaccuracies are found in the customer registration, sellisbike.gr has the right to deactivate its account immediately.
To keep secrets and not disclose to third parties his username and password to sellisbike.gr. - Provide correct payment and delivery details for orders placed at the online Sellisbike.gr provides members with member services upon acceptance of the terms of use of the website and completion of the registration process. Members remain solely responsible for all transactions carried out under their personal password, email, and user account. Members agree to promptly notify sellisbike.gr of any unauthorized use of their account and any breach and / or potential breach of security store sellisbike.gr.
The user / member understands and accepts that sellisbike.gr retains the exclusive right to discontinue the use of the passwords on its services and / or to discontinue the distribution of its content to users / members who believe that they have violated the letter and The spirit of these terms of use.

Membership
By accepting these Terms and Conditions you warrant that you are over 18 years old and that you have legal capacity to be able to prepare and contribute to legal contracts under the applicable law. If you do not meet the required conditions, you should not use our services.

Payment methods
SellisBike enables you to pay your order through Visa, MasterCard, Maestro, American Express, Diners credit cards, debit cards and prepaid cards, as well as using the MasterPass electronic wallet.

Secure Transactions
Sellisbike.gr in no way has access to and does NOT store its customer's financial information (credit card information, bank accounts) in its database and in any way. All transactions and payments through credit cards are made by redirection in the Alpha bank's absolutely safe environment.
All card payments are processed through Alpha Bank's Alpha e-Commerce electronic payment platform and uses TLS 1.1 encryption with Secure Sockets Layer (SSL) encryption protocol. Encryption is a way to encode the information until it reaches its intended recipient, which will be able to decode it using the appropriate key.
If the order is canceled at any time before it is executed, the order is released directly from the Alpha Bank system with which we work. When booking bicycle or equipment data, no guarantee or commitment of money will be required in the booking process, except by the physical presence of the customer at the shop by the purchase of the rented product.

Privacy of personal information
Personal information requested during the registration process at sellisbike.gr is used solely for the execution of your orders. They are not published and are not passed on to third parties. Copyright All content on sellisbike.gr, including, but not limited to, texts, graphics, trademarks, images (regardless of attributes), digital files and software, is the exclusive property of the Online Store or the content providers that cooperate with the Online Store and is protected by Greek and International Copyright Laws.
It is forbidden to collect and use any product catalogs, product descriptions or prices, any indirect use of the Online Store and its contents for the benefit of another business, whether commercial or not, without the written consent of sellisbike.gr. All site design, text, graphics, selection and settings are owned by sellisbike.gr and are the Right of Intellectual Property. Reserving all rights.
The newsletters that the visitor / user of salesisbike.gr services voluntarily receives upon registration are intellectual property of sellisbike.gr and are therefore protected by the relevant provisions of Greek law and international conventions. Sellisbike.gr reserves the right to refuse to include a person in the recipient lists or even delete them.

Limits of Liability
Given the nature and volume of the internet, under any circumstances, including negligence, sellisbike.gr is not responsible for any form of damage to the visitor / user of the pages, services, choices and contents of which he makes exclusively Responsibility. The online store sellsbike.gr makes every effort for the level of services it offers but there is no absolute guarantee that there will be no delays or mistakes.
Any reference or link to another site is provided for your convenience and sellisbike.gr is not responsible for the content, security settings, products and services of these sites. Product photos are indicative. Sellisbike.gr makes unremitting efforts to accurately describe your products and keep you up to date with them, nevertheless it can not be held responsible for any inaccuracies in the information provided by the manufacturers or carriers.
Sellisbike.gr has most of its products readily available and those that are not available within 15 days by informing the customer of their exact availability date.

Suspension - Cancellation policy
Sellisbike.gr always aiming at your best service, offers the possibility of returning the products of your order. The consumer has the right of withdrawal according to which he has 14 calendar days to return the product he has bought - for whatever reason even without requesting a replacement or a refund. It is imperative that the packaging be in its original condition. In order for a refund to be accepted, the product must be accompanied by the original purchase receipt (retail receipt, or invoice). Cancellation of a confirmed order without your charge will only be accepted until we notify you by e-mail about its sending. If the cancellation is made after the order has begun, then you will be charged for the shipping costs.

Traditions Deliveries
Tradition deliveries are made by courier company (Geniki Taxydromiki) as well as transport companies that vary depending on the area you are staying. The products are delivered to the address you have declared or received by the transport company of your choice.
Orders registered until 11:00 am Sent on the same business day. For orders placed after 11:00 am The process is launched one day later. In case of inaccessible areas, there is a possibility of additional charges proportional to the weight of the shipment. For overweight shipments please contact us to find a more economical solution for shipping your products. All prices include 24% VAT.